Shiraz braised beef cheeks on salad greens to the doorstep? Yes please.
How much meat can a salad have before kicking it out of the category altogether? As a meat lover (last meal being a slab of medium-cooked steak with wine), I believe in pushing the limit.
Spinacas more than met expectations in this regard. While the greens looked relatively standard, they were paired with a substantial amount of protein. Some components were packed individually, including the peanuts and sauces, so it was easy to toss a fresh lunch just the way I wanted.
From left to right: Meat Lover Honey Soy Chicken Salad, Vegetarian Spiced Chickpea Patties Salad, Shiraz Braised Beef Cheeks Salad, with Cauliflower Rice and Coconut Water.
Even the meatless option, the Vegetarian Spiced Chickpea Patties Salad ($9 for petite, $11 for regular), came with a sizeable portion of chickpea goodness. Don't be stingy with the lime – it gives the well-seasoned patties a lift.
Vegetarian Spiced Chickpea Patties Salad (regular, $11)
Of the three salads, the vegetarian option went best with nuts. When eaten together, the combination of peanuts and a bite of the patties that held together well, was incredibly moreish. I would have liked a little less olive oil dressing, so try it before pouring the full tub.
What I wish was made more clear was the inclusion of egg – no problem for me, but for a strictly vegetarian friend at the table who had to remove the hard-boiled variety. She only found out later that the cauliflower-and-chickpea-mix patties (hastily gobbled) had egg in it. Perhaps a label on the box would suffice.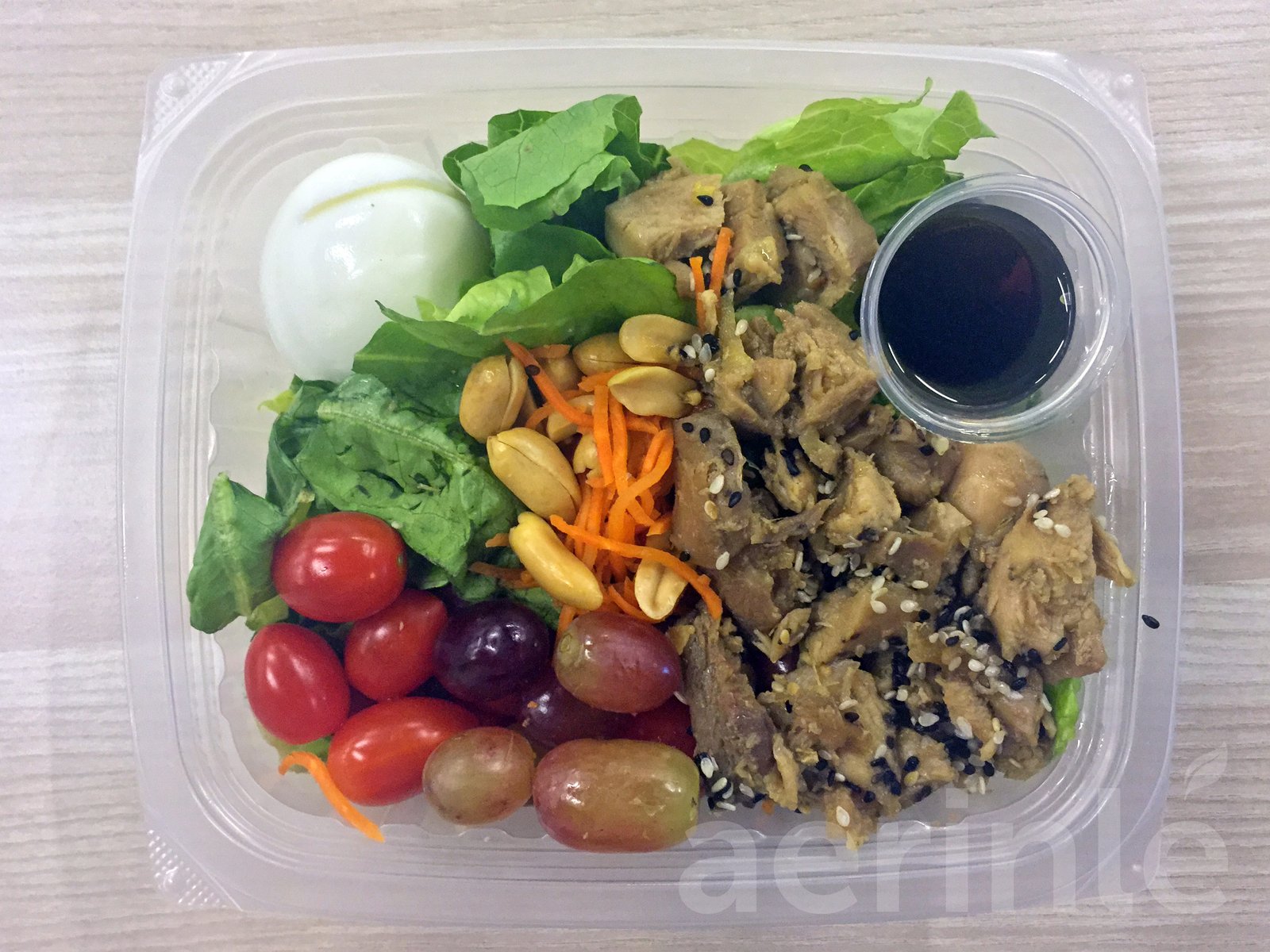 Meat Lover Honey Soy Chicken Salad (regular, $13)
The Meat Lover Honey Soy Chicken Salad ($13, available only in regular) was something I could see myself ordering on a regular basis. It has 200g of chicken, giving the salad a whopping 53g of protein. The sweet ginger and sesame dressing gave the dish a satisfying kick.
Shiraz Braised Beef Cheeks Salad (regular, $17)
Go for the Shiraz Braised Beef Cheeks Salad ($17, available only in regular) if the word of the day is indulgence. The beef cheeks were slow-braised with Shiraz, making them succulent, tender and tasty. I had to constantly remind myself that I was having a salad. It tasted like yummy beef stew with healthy accompaniments; a weird concept at first, but no complaints there! This was the heaviest of the lot.
Top right: Cauliflower Rice ($2)
No matter what, save some space for the Cauliflower Rice ($2), that is not actually rice but granules of cauliflower florets. Sautéed with olive oil, they tasted great with cashew nuts and coriander. Trust me on this – I would have ordered extra tubs for a tea time snack.
While Spinacas ticks all the right boxes in taste, the cost of delivery, that ranges from $4 to $6 for selected locations, took my mind off making it a mid-week routine. For what it's worth, delivery was punctual and the service, friendly.
The protein-laden salads at Spinacas are still well worth a try. Sign up for its mailing list and get $3 off your first order!
Spinacas
Taste: 4/5
Price: 3.5/5
Delivery (Cost, Punctuality, Service): 3/5
Overall: 3.5/5
Written by: Annabelle Liang
---
---
We are a news and resources marketplace for those seeking a healthy, organic lifestyle. Aerinlé aims to provide comprehensive articles for natural living.